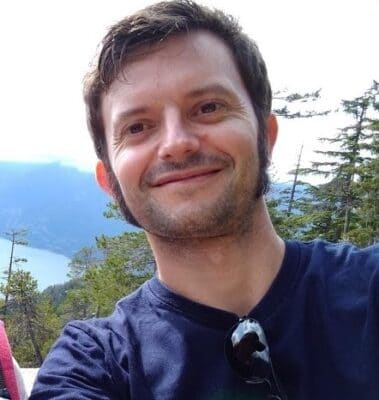 Dr. Brian Pickles has been involved in the Mother Tree Project from the very beginning when he helped to write the NSERC proposal that launched the project. He was a postdoc with Dr. Suzanne Simard from 2012 to 2015 and is now an Associate Professor of Ecology at the University of Reading (UK).
Brian is mainly interested in symbioses but works on a wide range of topics including biodiversity, host-symbiont interactions, and spatial ecology. His current research includes the impacts of climate change (past, present, and future) on mycorrhizal symbioses, the contribution of facilitative processes to forest regeneration (e.g. nurse plants, mycorrhizal associations, mycorrhizal networks), and linking measurements of carbon and nutrient cycling to biodiversity.
He received his Ph.D. in Plant Science and M.Sc. in Ecology from the University of Aberdeen where he studied the spatial ecology of ectomycorrhizas with Prof. Ian Alexander and Prof. Ian Anderson. His undergraduate degree from the University of Edinburgh was in Wildlife Management and he maintains an enduring interest in modern and ancient reptiles.
View All Associates