Project Manager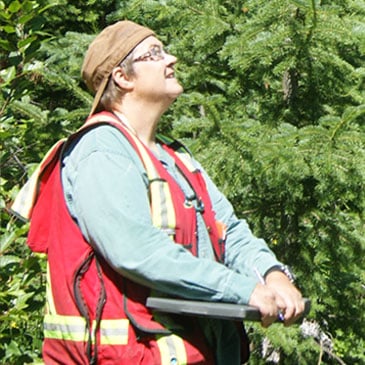 Jean Roach is a Professional Forester and the manager of the Mother Tree Project. She has over fourty years experience as a forestry research consultant and was hired by the University of British Columbia (UBC) in 2016 to establish the Mother Tree Project sites.
Her interest in forests was sparked at a very young age during summers spent at her family's rustic cabin on 7 hectares of Douglas-fir forest at Bowser on Vancouver Island. Family camping and hiking trips began as soon as she could walk, using the crude equipment available in the 1960's, and in high school she enjoyed numerous adventures as a member of the Point Grey Outdoor Club. Forestry was a natural career choice, made possible by the encouragement of several professors at UBC.
Jean earned a BSF degree in Forest Resource Management from UBC in 1983 and received Registered Professional Forester status in 1986. Her undergraduate thesis focused on soil variability and was supervised by Dr. Les Lavkulich.
Her research interests include forest regeneration and young stand dynamics, vegetation management, silviculture systems, forest ecology, forest soils, entomology and hydrology.
Jean has managed several large forestry research projects and is well known for her organizational skills and practical approach to conducting research. Over the years she has enjoyed mentoring dozens of young people who are pursuing a forestry career.
She has a long history of working with Dr. Suzanne Simard, beginning in the summer of 1982 when they held field positions in Kamloops collecting data for the biogeoclimatic classification program.
View all Project Leads